Post Auto Expire Control
If you running a multi-authors website or blog, maybe you will need this.
The Post Auto Expire Control is a plugin for admin of multi-authors site to control the posts expiration based on the user role and post type.
Plugin Features:
Define post expiration rules based on user roles and post type.
Define action that will be taken when the post has expired.
Sent notification to post's author before the post is about to expire.
Configure the subject and content of the notification email.
Define when the notification mail should be sent.
Admin able to change the expiry date for a single post.

How to use?
Simple, just adding the expiration rules on the plugin page, and it is ready to go.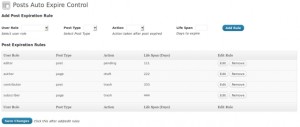 The adding expiration form and expiration rules table
The plugin also allow you to apply your expiration rules to previously published posts (posts that published before you install this plugin).  To do this, just click the 'Apply' button under "Apply rules to previously published posts".

Cautious 1  -When you applied the rules to your previously published posts, it might be take a while to run. It depends on how many posts you have in your site.
Cautious 2 – As soon as you applied the rules, your previously published posts maybe will be removed (depending on your rule's action). So you have to use this features carefully. If you don't understand how it works, you can leave a comment here or at the plugin forum.
The post expiration notification email is quite simple, you can defines when you want to send the notification to your author before their post's expiration. The first mail is for you to control when you want to send the post expiration notification, while the second mail is sending the notification just one day before the post is expired. Of course you can enabled both notification, or either one of the them, or even disable all of them.
If you are admin, and you want to change one particular post expiration day. You can go to that post's edit page, there will be a meta box with the header of "Post Auto Expire Control" under the writing panel. You can change the expiration day in the box and save your changes.
If you have any problems with current plugin, please send me an email or leave a comment.